Da Blue Hole "Get Lost In Our World"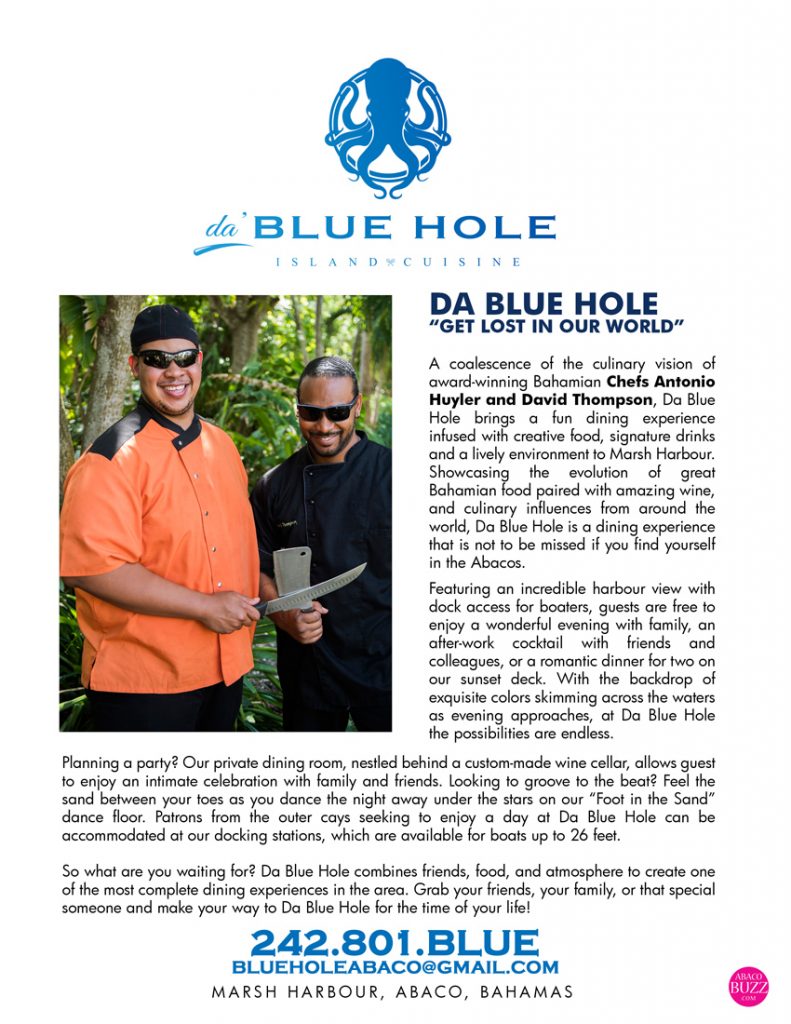 Da Blue Hole "Get Lost In Our World" A coalescence of the culinary vision of award-winning Bahamian Chefs Antonio Huyler and David Thompson, Da Blue Hole brings a fun dining experience infused with creative food, signature drinks and a lively environment to Marsh Harbour. Showcasing the evolution of great Bahamian food paired with amazing wine, and culinary influences from around the world, Da Blue Hole is a dining experience that is not to be missed if you find yourself in the Abacos. Featuring an incredible harbour view with dock access for boaters, guests are free to enjoy a wonderful evening with family, an after-work cocktail with friends and colleagues, or a romantic dinner for two on our sunset deck. With the backdrop of exquisite colors skimming across the waters as evening approaches, at Da Blue Hole the possibilities are endless.
Planning a party? Our private dining room, nestled behind a custom-made wine cellar, allows guest to enjoy an intimate celebration with family and friends. Looking to groove to the beat? Feel the sand between your toes as you dance the night away under the stars on our "Foot in the Sand" dance floor. Patrons from the outer cays seeking to enjoy a day at Da Blue Hole can be accommodated at our docking stations, which are available for boats up to 26 feet. So what are you waiting for? Da Blue Hole combines friends, food, and atmosphere to create one of the most complete dining experiences in the area. Grab your friends, your family, or that special someone and make your way to Da Blue Hole for the time of your life!
242.801.blue blueholeabaco@gmail.com